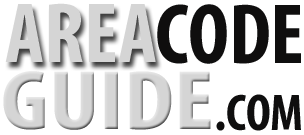 Area Code 818
Where Is Area Code 818?

Entertainment giants and young families equally enjoy living in the 818 area code. Most notably, area code 818 is used for the cities of Burbank and Glendale in California. Celebrities are frequently spotted in both Glendale and Burbank going about their normal lives such as doing grocery shopping or filling up their gas tanks. Area code 818 was created as a split from the original Californian area code 213 in 1984. A few years later in 1997, area code 626 was split from 818. Most recently, area code 818 was changed a second time in 2008 when the 747 area code overlay was put in place. Currently, callers in the 818 and 747 area codes must dial the area code before the number even when making local calls.
Glendale is the suburban part of the 818 area code. With many wealthy residents recently settling in Glendale, the population has become significantly stratified. As a result, there are high crime rates in certain neighborhoods in the Glendale area code. Nevertheless, wealthy celebrities who want to escape from the paparazzi have frequently been spotted doing their daily chores in Glendale. For instance, teeny bopper stars such as Shia LaBeouf, Vanessa Hudgens, Rachel Bilson, and Hillary Duff have frequently been spotted out and about in area code 818. The Grove at Farmers Market also attracts locals and celebrities alike. Reasonable restaurants and fun clothing stores make The Grove a great place to spend an afternoon window shopping or grabbing a calorie packed gelato treat.
Even Victoria Beckham has been caught by the paparazzi grabbing an ice cream with her son at The Grove. Nevertheless, most people in Glendale are not famous and just enjoy the calm life that the city has to offer.
In contrast to Glendale, Burbank is flooded with popular names in the entertainment industries. Much like Glendale, the Burbank area code is located in Los Angeles County. However, Burbank has a much smaller population that is experiencing great growth in recent years. In fact, the entertainment industries that have been based in Burbank as early as the 1920s have consistently supported the economy in this portion of the 818 area code. Burbank's location just outside of the main action in Hollywood makes it a much more affordable place for big companies to be based. For instance, Columbia Pictures and Warner Brothers took advantage of the cheaper property prices in Burbank during the 1970s. Furthermore, area code 818 may have been the location of Disneyland was it not for protests from city council members.
The last original Bob's Big Boy Restaurant is located in Burbank and is actually chosen as a California Point of Historical Interest. It was originally placed in Burbank in the late 1940s and subsequently became a landmark in area code 818. Other than its popular menu, Bob's Big Boy represents an iconic period in Burbank's architectural history. The Googie form of architecture may be best explained as a style that looks as if it is directly from out of space. The showy style is characterized by steel, neon, and most recognizably flying saucers and other geometric shapes. During the time that Googie architecture became fashionable, the American people were obsessed with rocket ships and space exploration. A great example of the Googie architectural style may be seen in shows such as The Jetsons. This landmark in area code 818 exemplifies the creative genius of people at that time. Individuals who utilized Googie architecture were no longer confined to previous forms of style and were free to express their hopes for the United States through the style of their buildings. Further adding to Bob's Big Boy Restaurant's landmark status is its famous patrons over the year. Not many restaurants that are still in service can accurately claim to have served legends such as The Beatles, Bob Hope, Mickey Rooney and Dana Andrews.  Consequently, biting into a Big Boy sandwich gives you a small bite of history right along with it.
All California Area Codes By Number