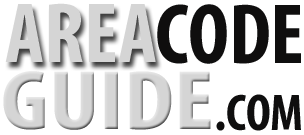 Area Code 480
Where Is Area Code 480?
Updated: January 20th 2021

However, it surpassed its rural roots when architect Frank Lloyd Wright built his studio in 1939 just outside of Phoenix. Area code 480 is fairly new, only splitting off from the original 602 area code in 1999. In fact, no one really expected how quickly the population in Phoenix would grow, and they needed another area code to cover the new eastern suburbs of Phoenix. Other than that, the 480 area code also covers Scottsdale, Paradise Valley, Tempe, Chandler, Gilbert, Mesa, and the Apache Junction.
The Phoenix area code is a great place to live and almost 1.5 million people choose to live there. In fact, Phoenix has the 14th largest metropolitan population in America and is the 6th most populated city in the country. Additionally, the Phoenix area code is home to the largest capital in America and is the only capital with over 1 million people. The 480 area code is also expecting more growth as it is the second fastest growing metropolitan area in America (slightly exceeded by Las Vegas). The home crisis has made this a prime place to move to. For instance, a surplus of available homes have decreased the median home price to a mere $150,000, which is an almost 50% decrease from ten years ago. Accordingly, more and more people flock to area code 480 for its affordable housing and improved crime rates, which have sparked new businesses to pop up everywhere.
Located in the "Valley of the Sun," people in the 480 area code can expect year long sunshine. This is one of the reasons that Arizona is one of the few states that do not observe daylight savings time.
With all of that sunshine, it is only expected that hot temperatures would tag along. With summer averages reaching up to 110 degrees Fahrenheit, you should look forward to staying indoors with air conditioning most of the time. In fact, rain is rare in this 480 area code, which leaves little to cool off the scorching sunshine. Even winter temperatures are particularly mild, and average in the 70s Fahrenheit. A lot of people in this region love the mild winters and are willing to endure the scorching summers, especially as area code 480 has successfully avoided being in the path of major natural disasters. This is one part of the country where you do not have to worry about blizzards, hurricanes, or tornadoes.
Individuals that live in Phoenix don't need to leave area code 480 for some fun and recreation. They can head straight to Scottsdale to enjoy a buzzing night life and luxurious entertainment. With sky rocketing real estate prices and steep hotel costs, you may only want to stay a few nights in this part of the Scottsdale area code. Nevertheless, rising companies have chosen the Scottsdale area code to be home to their headquarters. These include AXA, GE Capital, DHL, Fidelity Investments, The Vanguard Group, JDA Software, and even the up and coming GoDaddy.com. With less than 100,000 people living in Scottsdale, you'll quickly notice the arrogant tone that covers most of Scottsdale. Regardless, many people choose to vacation or live in this high tourism area for its outstanding facilities, including a branch of the Mayo Clinic.
Major Cities In Area Code 480
Phoenix
Scottsdale
Tempe
Tempe is also located in area code 480. Even though it is not that well known, it is home to several Fortune 500 companies, including US Airways and Insight Enterprises. You may also be interested in knowing that Cold Stone Creamery was originally headquartered in the Tempe area code. These companies undoubtedly recruit students from Arizona State University's largest campus, which is also located in area code 480. Other than big businesses and students, there isn't much in Tempe, unless you are a super athlete and want to participate in the yearly P.F. Chang's Rock 'n Roll Arizona Marathon and ½ Marathon which is also held in the Tempe area code. Not surprisingly, Tempe also hosts the annual Ironman Triathlon.
All Arizona Area Codes By Number